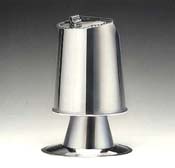 Each piece of tinware made by JP-Tinsmith is individually handcrafted, numbered and stamped with the JP hallmark to guarantee its authenticity as well as to assure that it can be properly identified and not confused with tinware crafted in an earlier period. So that
there will be no question regarding the authenticity of design, each piece of tinware is assigned one of three classifications:

AR: Authentic Reproductions, designated by 'AR', are exact copies of an authentic, original piece that may be found in a museum or private collection. The original must be in hand so that accurate measurements can be made and construction methods studied.

PAR: Patterned After Reproductions, designated by 'PAR', are developed from photographs of an original piece. While they will closely resemble the original, there will be slight differences in dimensions and construction methods.

UD: Unique Designs, designated by 'UD', are pieces of my own creation that reflect the influence of early American design.

The abbreviation that denotes the classification of each piece of tinware is found as part of the product number. For example, 'AR' in K-110-AR indicates that this piece is an authentic reproduction.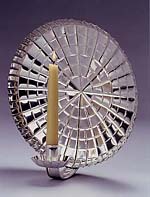 During the 1800's tinware was often referred to as 'poor man's silver' and was cared for by its owner just as the more affluent cared for their sterling. Old documents relate that some people went to great lengths to keep their tinware looking shiny and new. In Union County, Pennsylvania, each spring Mrs. Katherine Koser traveled from home to home to polish the housewives' tinware. Using wood ashes placed on a damp cloth, she would rub the tinware until it was clean and shiny. Candace Witmer Halfpenny recalled using sand on a rag to shine her father's tinware. And Daniel Miller of Birdsboro, Pennsylvania, recalled scouring day on the family farm. The tinware was boiled in the liquid residue that remained from soap-making. It was then rinsed, dried and polished with potash or fine white sand.

After much use and cleaning, the reflective quality of tinware was greatly reduced, thus rendering some of it virtually useless. Items such as reflector ovens, reflectors on some lighting devices and tin mirrors, once tarnished and dull and beyond polishing, would
likely have been discarded and replaced with new, shiny pieces.
* * *
Tinware is made from tinplate - a thin sheet of steel that is coated on each side with a fine layer of tin, a naturally occurring metallic element. While tin will not rust, steel will, hence the importance of avoiding scratching and removal of the tin plating by excessive and harsh cleaning. The exposed steel along cut edges can rust so it is important to dry tinware thoroughly after washing and avoid keeping it in areas of high humidity.

When cleaning tinware avoid abrasive cleaners that will scratch and prematurely wear off the tin plating. Wash with a mild detergent, warm water and a non-abrasive dishcloth or sponge. Dry thoroughly with a soft cloth or in the oven at a temperature no greater that 200 degrees Fahrenheit - higher temperatures will cause the solder to melt and the tinware to come apart. Check the accuracy of your oven temperature control with a reliable thermometer.

Note that you may occasionally see an amber coloring in some hard-to-reach soldered joints. This residue, impossible to completely remove, results from the use of rosin flux during the soldering process. The residue is harmless and needs no further attention.

Should you prefer that your tinware eventually acquire the gray patina to which many people are accustomed and is evidenced by antique tinware, you will find that use, cleaning and time will, in a natural manner, bring about the appearance that you desire.
Tinware can be polished using a good silver polish; note that polishing can somewhat reduce the mirror-like finish and thus, over time, help contribute to development of the grey-colored patina.

A note regarding undecorated apple and nut trays: the skins of apples and some other fruits have a rather high acid and moisture content; use the clear plastic bottom and side liners to avoid surface damage. Be sure that the fruit touches the liner and not the tin.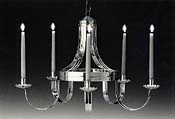 In general, note that some marring of the mirror-like finish of tinware is unavoidable and to be expected. This results from processes employed in the manufacture of tinplate and the crafting of tinware.

The candle length that generally looks the most attractive in the various lighting fixtures is ten inches or less. Bottom diameters of candles vary so you may find that you will have to trim the candle base so it will fit the socket of the candleholder. It is better to trim
the candle to fit rather than trying to force the candle into the socket. When inserting candles into the candle socket of some sconces and chandeliers, be sure to support the underneath of the candleholder or candle cup with one hand to avoid bending the holder or support arm.

So that your candleholder will look its best, be sure that the candles are straight and plumb! To check for plumb, view the candle from two positions that are at right angles to each other (for example, from the front and also from one side). The candle should look
plumb from each position. If it is not plumb, try the following. Rotate the candle in the candle socket (this alone will often work for dipped candles) and /or gently push the candle to one side or the other. Or, if necessary, should your candleholder have support
arms to hold the candle cup and candle, the support arm can be bent. Do this gently and carefully, just a little at a time, so you do not kink the support arm. Properly adjusting the candles is well worth the time and effort for nothing detracts more from a candleholder's appearance than candles that are askew.

Chandeliers, when hung where people will be walking under them, should be suspended so that the lowest part is at least seventy-eight inches above the floor. When suspended over a table the base of the candleholder part of the chandelier should be about thirty-six inches above the table top (check local building and fire codes to be certain that these measurements meet local requirements). Be certain that there is adequate distance from the top of the candle to the ceiling to prevent a fire.

Kitchenware is soldered using lead-free solder because of present-day concerns relating to health problems associated with lead intake. Tin/lead soldered is used just as it was in the 1800's in order to craft all other tinware in as authentic a manner as possible.

Caution! Some pieces of tinware have sharp edges and/or corners. Handle with care to avoid personal injury or scratching of furniture. Keep such pieces out of children's reach. Adequately distance various lighting devices from combustible materials to prevent fire. Avoid placing an unshielded flame in drafty areas. Supervise children around any open flame and do not allow them to play with any fire-producing device.