Teapot, Candlestick, One-sheet Waiter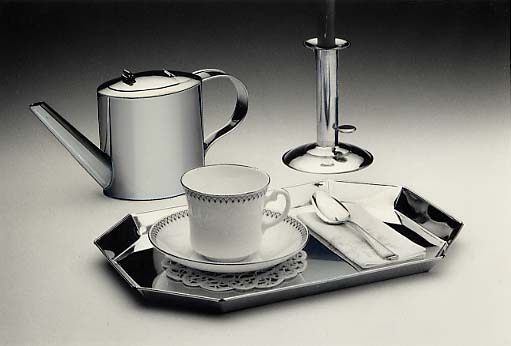 Teapots such as this one of American design were common. All are quite similar differing mainly in the style of the knob on the hinged cover - knob variations ranged from one to three rings. This design is no doubt patterned after English teapots, one of which has an unhinged top that is capped with a white-metal acorn finial and a handle with a thumb rest and brace. Many American teapots were decorated. Water for tea would have been boiled in another container - the teapot being used only for steeping and serving. This teapot, soldered with lead-free solder, is safe to use.
| | | |
| --- | --- | --- |
| K-111-PAR | American Teapot 4 1/2"W x 3 1/4"D x 4 1/2"H | $325.00 |
American Teapot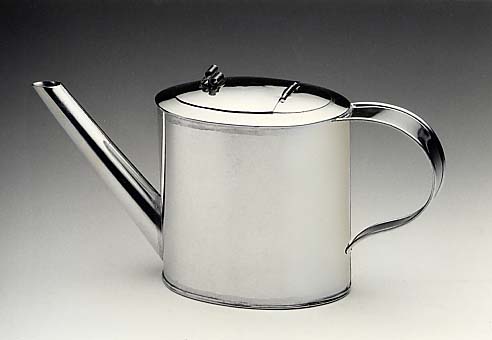 The candlestick is typical of many early ones often referred to as hogscraper candlesticks. It was made to be used in one place rather than carried about; there would have been less guttering of the candle and so the narrow rim around the candle socket was adequate to catch the dripping tallow. A hook was sometimes incorporated in the rim of the drip cup so that the candlestick could be hung on the back of a ladderback chair to provide light over the shoulder for reading. The 'push-up' in the stem aided in the removal of the candle stub.
| | | |
| --- | --- | --- |
| L-107-PAR | Candlestick 4"Dia. x 5"H | $200.00 |
Trays were commonly called 'waiters' - this particular one a coffin-lid waiter or coffin tray - so named because its shape closely resembled that of early coffins. In the 1700's tinplate was made in sheets that measured ten by fourteen inches. A one-sheet waiter was made from a single sheet of tinplate and a two-sheet waiter was made from two sheets that were seamed together. Quarter- and half-sheet waiters were also made.
| | | |
| --- | --- | --- |
| K-109A-PAR | One-sheet Waiter 12 1/2"W x 8 1/2"D x 3/4"H | $165.00 |