Post Lamp circa 1840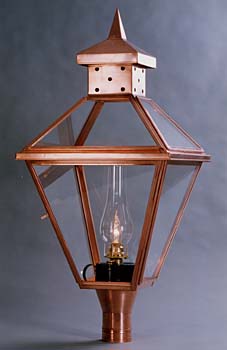 This lamp closely resembles one made from tinplate that still shows some evidence of its original green Japan-paint. Although it would be historically correct to use the lamp to re-create a setting ranging from 1840 to 1890, the style of the lamp's kerosene burner would narrow this range to the last two decades of this period.

The unique design of the upper and lower corner supports results in a lamp that is very sturdy and virtually waterproof. Channels are built into these supports and the glass is slipped into them from the outside of the lamp (most lamps were commonly designed so that the glass was installed from the inside of the lamp and secured in place by bending metal tabs). The lamp is made of copper, a metal that naturally acquires a beautiful patina and is well suited for outdoor use. A hinged door gives access to the interior for both cleaning and servicing the reproduction kerosene lamp that comes with the post lamp. Available either electrified or equipped to burn kerosene or lamp oil, the lamp font is made from brass with either a bright brass, painted, or dark patinated and lacquered finish. Add $80 for painted or lacquered finishes.

Weighing over ten pounds and constructed from eighty-seven individual pieces that require hundreds of forming operations, the lamp measures thirty-six inches in height and is seventeen inches square at the largest point. All of the kerosene lamp's fittings are solid brass. Although the design and construction details are almost identical to those of the original, our stringent classification standards require that this reproduction be listed as a unique design. This lamp can be an impressive addition that will compliment the overall effect of any project, whether it is a historically accurate or loosely interpreted restoration or one with a contemporary design.
| | | |
| --- | --- | --- |
| L-136-UD | Post Lamp 17"W x 17"D x 36"H | $1650.00 |
| L-136-UD-1 | Above with restoration glass | Call for Quote |
Eighty-seven individual pieces are required to make the post lamp