Measures were available in all shapes and sizes. Usually, but not always, their sides were tapered with the diameter at the top of the body being smaller than the diameter at the bottom. Sizes ranged from one-half gill (one gill equals four liquid ounces or one-half cup) to two gallons. Old trade books such as Mechanics Calculator and Tinsmiths Guide by Thomas Quantrill (1847), list specific dimensions for measures of various capacities. These dimensions often varied from one reference to another resulting in measures of different proportions for a given size. Many measures were made from tinplate and enamelware, while some were made from copper and brass.
Measures were made with and without a pouring lip – in all likelihood those without a lip for dry measure. Pouring lips were usually wider at the point opposite the handle; some lips wrapped completely around the top of the measure while many encompassed about three-quarters of the tops' circumference. The pouring lips of most tin measures were made of tinplate, although some were made of copper, thus giving the measure a unique and stylish appearance.
Old ledgers show prices for measures in the mid-1800s ranging from eight cents for a pint measure to fifty cents for a gallon measure. Those same measures, listed in an 1895 Montgomery Ward & Co. catalog sold for four cents and sixteen cents respectively. In the late 1800s enamelware and aluminum measures averaged five and ten times the cost of tin measures.
These measures are available individually and in sets of four. The sizes available are: one-half gill (one-quarter cup), gill (one-half cup), half-pint (cup), and one pint (two cups). All are soldered with lead-free solder and can be used safely. The one-half pint liquid
measure is an authentic reproduction; the other measures in both sets are sized and proportioned from this original piece.
| | | |
| --- | --- | --- |
| K-116MS | Dry Measure Set | $495.00 |
| K-116M | Dry Measure – half-gill 1 ¾"Dia x 1 ¾"H | $120.00 |
| K-116M1 | Dry Measure – gill 2 ¼"Dia x 2"H | $125.00 |
| K-116M2 | Dry Measure – half-pint 2 ¾"Dia x 3"H | $130.00 |
| K-116M3 | Dry Measure – pint 3 ½"Dia x 3 ½"H | $135.00 |
Liquid Measures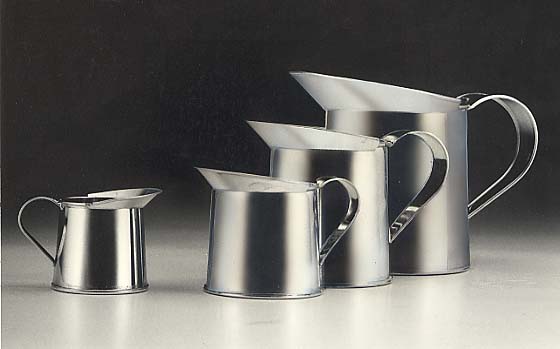 | | | |
| --- | --- | --- |
| K-116MSL | Liquid Measure Set | $650.00 |
| K-116ML | Liquid Measure – half-gill 1 ¾"Dia x 1 ¾"H | $160.00 |
| K-116M1L | Liquid Measure – gill 2 ¼"Dia x 2"H | $165.00 |
| K-116M2L | Liquid Measure – half-pint 2 ¾"Dia x 3"H | $170.00 |
| K-116M3L | Liquid Measure – pint 3 ½"Dia x 3 ½"H | $175.00 |