Leader Box as an electrified wall sconce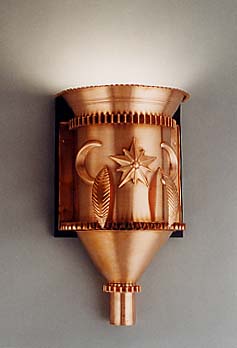 This circa 1825 leader box is copied from one in the collection of the Farmers' Museum in Cooperstown, NY and has been reproduced as part of a complete rain-gutter system for one of the houses at the museum (see the More House on the Restoration Commissions Gallery). Leader boxes were generally used in conjunction with a box gutter that was built as an integral part of the roof. Water running down the roof ran into the box gutter, through a short piece of pipe that extended from the box gutter down through the soffit, and then into two leader boxes that were located just below the eves at each side of the house. The leader boxes on the front of the house were often decorated with various ornaments such as the crescent moons and star on this reproduction. Usually, the leader boxes located at the rear of the house were left plain. Period leader boxes were usually made of tinplate; this reproduction is made of copper so that it can withstand the elements.
The leader box can serve as a beautiful decorative wall piece with floral arrangements to fit the season. A removable, electrified insert is available so the leader box can be used as a wall sconce to give soft, indirect room lighting.
M-129-AR
Leader Box - copper
10 1/2"W x 6 3/4"D x 17 1/2"H

$ 1950.00

M-129-AR-1
Above with painted finish

$ 1750.00

M-129E-AR
Add for electrified insert

$ 65.00
| | |
| --- | --- |
| Leader Box as a wall decoration | Leader Box detail |