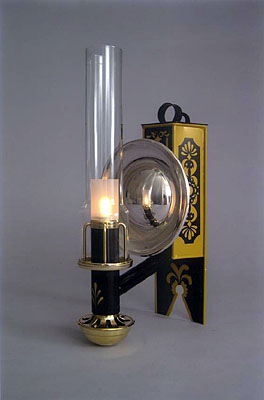 Argand Bracket Lamp - circa 1830
This circa 1830 Argand Bracket Lamp or wall sconce will make a beautiful and functional addition to any home. They are well suited for use in any type of room as well as halls and stairways. The stenciled decoration on this lamp is very similar to the decoration on a period lamp manufactured by W. Carlton of Boston and pictured on page 127 of Lighting in America, edited by Lawrence Cooke. The lamps are made from tinplate; the chimney holder and breather cup are made from brass; the reflector is silver-plated brass (the back of the reflector has a brass finish similar to old Sheffield plate reflectors).
The lamps are also available in a number of different colors and with simple, decorative striping. Lamp colors are opaque Prussian blue, mustard yellow, Hunter green, and black. Striping colors are black, red, and yellow. Photographs below the pricing information show stenciling detail, hand-wrought nail detail, and simplified installation options using CordMate.
The lamps are electrified and supplied with 35-watt, 110-volt halogen bulbs; 25 and 50-watt bulbs can also be used. The frosted glass sleeve that surrounds the bulb virtually eliminates bulb glare. There are four different electrified versions:
1. The first is wired so it can simply be plugged into a wall receptacle. A two-position on-off dimmer switch can be installed in the cord if requested.

2. The second is the same as the first but it has an internal variable on/off dimmer switch located in the top of the font; the switch is accessed by simply removing the top of the font.

3. The third is wired to be mounted directly over an electrical box and operated by a wall mounted on-off/dimmer switch.

4. The fourth is wired and mounted just like the third but has an internal variable on-off/dimmer switch that is accessed by removing the top from the font. This is designed for use in situations where it is impractical to wire the lamp to a wall- mounted switch.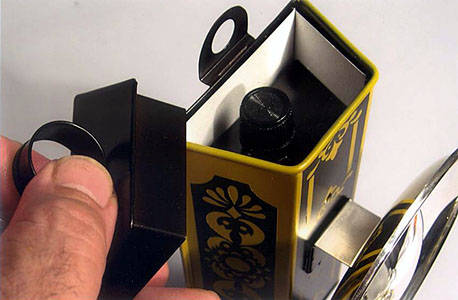 These lamps measure 12" high including the chimney and the reflector is 5" in diameter. Hand-wrought nails, supplied with each lamp, enhance the period look of you lamp. For lamps that must be secured directly to plaster or sheetrock walls, wrought-head and anchors are available. Detailed installation instructions are included with each order.
| | | |
| --- | --- | --- |
| L-105-R-AR | Argand Bracket Lamp - striped finish, electrified, version 1 | $795.00 |
| L-105A-R-AR | Argand Bracket Lamp - striped finish, electrified, version 2 | $920.00 |
| L-105B-R-AR | Argand Bracket Lamp - striped finish, electrified, version 3 | $830.00 |
| L-105C-R-AR | Argand Bracket Lamp - striped finish, electrified, version 3 | $955.00 |
| L-105D-R-AR | Argand Bracket Lamp – any version, painted, no striping | $725.00 |
| L-105D-R-PAR | Stenciled finish as shown, per lamp add | $300.00 |
| L-104D-R | Toggle bolts with hand-wrought bolt heads, priced per pair | $10.00 |
~ Additional Photos Below ~
Argand Wall Sconce with CordMate
If there is no electrical box mounted in the wall directly behind where you want to place the sconce, using CordMate is a good means to hide the electrical cord that drops down the wall to a receptacle. CordMate is hollow plastic conduit that comes in 5' lengths and has an adhesive backing to hold it in place; elbows and couplings are available if needed, and it can be painted or stained to match the background color.
The photo to the left shows routing the wire in a groove cut in the wall surface behind the lamp so that only a small section of the wire is visible. The photo to the left shows the wire exiting the lamp at the bottom of the font. The wire can be painted to match the wall or lamp color.
I have used this product for many years; it is easy to use and I have been very pleased with it. CordMate is available at a number of hardware and home building supply stores; if you cannot find it, contact Wiremold at www.wiremold.com (enter CordMate in the search box at the top of the screen) or call (860) 233-6251.