Argand Four-burner Chandelier

Dark patinated finish, bright banding, trumpet shades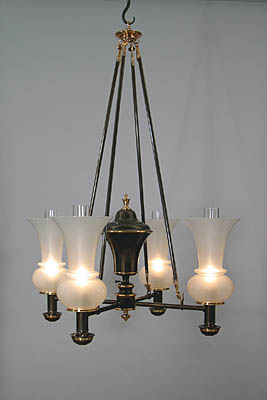 This circa 1830 Argand four-burner chandelier is closely patterned after one that is owned by a private collector. This chandelier could be appropriately used in a number of settings: house entrance, stairway (see the photos below), living room, dining room, library, and any number of public buildings. The chandelier could be appropriately used in buildings that date earlier than the 1830's since lighting fixtures were commonly updated as better, brighter, and more efficient fixtures were developed.
To accurately reproduce the original chandelier, it was carefully measured, drawn, and photographed. Working from these tools, the various parts of the chandelier were either spun, machined, cast, or hand-fabricated. The chandelier is pictured with a black acid-etched patina with some brass pieces to contrast the dark finish. This same type of finish was commonly used on lamps of the period. The trumpet and vase shades and chimneys are hand-blown in the USA and have been carefully reproduced using period pieces as models.
The chandelier is electrified (oil-burning models are not currently available) and is available in a number of different models:
1. The chandelier is available with a dark patinated finish and bright-brass fittings or with the dark patinated finish, bright-brass banding, and bright-brass fittings. The entire chandelier is finished with a dragon blood tinted lacquer which gives the bright brass a rich, darker color. This finish is an accurate reproduction of that done in the period. If you have a preference regarding what fittings are left with the bright-brass finish and/or the areas that have the bright-brass banding please get in touch. It may be possible to customize the finish in this regard.
2. The chandelier is available with chimneys and trumpet or vase shades or with chimneys only. Chandeliers that are supplied with shades are electrified using four 60-watt candelabra bulbs; those that are supplied with chimneys and no shades are electrified using four 35-watt halogen bulbs (50-watt bulbs can be used) and have brass chimney supports that hold chimneys only.

Dimensions of the chandelier are as follows. The overall height of the chandelier is 33". The overall width of the model using the trumpet shades, including the shades, is 24-1/2" and 22" measured from the outside of the brass chimney/shade holders. The overall width of the model with chimneys only is 21-1/4" measured from the outside of the brass chimney holder. The height of the central font, valve, and distribution tank is 13-1/2" measured from the top of the top finial to the bottom of the bottom finial.
| | | |
| --- | --- | --- |
| A-111-1-PAR | Argand 4-burner Chandelier – banding, trumpet shades | $3,845.00 |
| A-111-2-PAR | Argand 4-burner Chandelier – banding, vase shades | $3,745.00 |
| A-111-3-PAR | Argand 4-burner Chandelier – banding, chains, chimneys | $3,285.00 |
| | | |
| A-111-4-PAR | Argand 4-Burner Chandelier – no banding, trumpet shades | $3,720.00 |
| A-111-5-PAR | Argand 4-Burner Chandelier – no banding, vase shades | $3,620.00 |
| A-111-6-PAR | Argand 4-Burner Chandelier – no banding, chains, chimneys | $3,160.00 |
| | | |
| A-111-7-PAR | Argand 4-Burner Chandelier - link & ring chains, banding, trumpet shades | $4,445.00 |
| A-111-8-PAR | Argand 4-Burner Chandelier - link & ring chains, banding, vase shades | $4,345.00 |
~ Additional Photos Below ~
Dark patinated finish, bright banding, vase shades
Dark patinated finish with trumpet shades

Dark patinated finish with chains, chimneys

Dark patinated finish, link and ring chains