Argand Three-burner Chandelier - circa 1835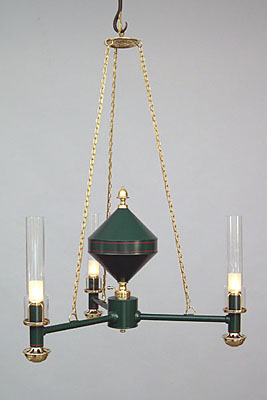 This circa 1835 Argand three-burner chandelier is patterned after one of a pair that is owned by a prominent museum located on the east coast of the United States. It could be used appropriately in settings that date back earlier than the 1830's since lighting fixtures were commonly updated as better, brighter, and more efficient fixtures were developed. The chandelier would be a stunning addition to almost any room be it a living room, dining room, study, library, or entrance way. In the period it was common for manufacturers to supply chandeliers of a particular design with two, three, four or more burners. In keeping with this practice, this three-burner chandelier is now available as a four-burner fixture as well.
Photographs of the original have been carefully scaled to render as accurate a reproduction as possible. All of the brass fittings have been either machined or cast using drawings and period parts as models. Close attention has been paid to use construction methods appropriate for the period. This chandelier is pictured finished in Hunter green with delicate, subtle, red and black striping. It is also available in mustard yellow and opaque Prussian blue with striping choices of red, yellow, or black.
The chandelier is available either oil-burning or electrified. The dimensions for both versions are the same: the overall height is 29" and the diameter at the widest part is 22 ¾".
Electrified chandeliers are available with or without an on-off dimmer switch which is hidden inside the oil distribution tank that is located under the main font. The small brass finial at the bottom of the distribution tank operates the switch (the profile of the finial has been reproduced from those on period lamps). The bottom of the distribution tank is removable should it ever be necessary to replace the dimmer switch. The chandelier is supplied with three 35-watt halogen bulbs; 20 and 50-watt bulbs are also available. It is preferable to use bulbs with a higher wattage than you would normally want and to use a dimmer to reduce the degree of illumination to a pleasing level. This will result in a soft, yellowish, light color that is close to that of an oil-burning lamp rather than the harsh white color that normally results when lamps are operated at full voltage. These bulbs are completely safe to use and result in an electrified fixture that is often mistaken for an oil-burning one.
The original chandelier did not have a finial at the bottom of the distribution tank, however, any of these chandeliers are available with the finial for those who would prefer it. There is an additional charge to add the finial.
| | | |
| --- | --- | --- |
| A-110-1-PAR | Argand 3-burner chandelier – electrified | $1,980.00 |
| A-110-2-PAR | Argand 4-burner chandelier – electrified | $2,440.00 |
| A-110-3 | Electrified chandelier equipped with on/off dimmer switch, add | $100.00 |
| A-110-4 | Oil-burning versions of either the 3 or 4-burner chandelier | -call- |
~ Additional Photos Below ~
Argand 3-burner Chandelier with red striping

Argand 4-burner Chandelier with black striping

Standard Chimney

Chimney/Shade