Residing in Westmoreland, New York, Joel Paradis is the founder and sole craftsman at JP-Tinsmith. He completed an advanced course in tinsmithing at Eastfield Village under Don Carpentier and William McMillen and strives to ensure that his reproductions display the highest degree of quality craftsmanship and authenticity of design.
Joel has earned the honor of being included in Early American Life magazine's "Directory of American Craftsmen" for the past eight years. In the summer of 1999, Joel was invited to craft a Christmas ornament for the Christmas tree on display in the White House Blue Room. He has done commissions for a number of museums such as The Farmers' Museum in Cooperstown, New York, Connor Prairie Museum in Fishers, Indiana, and the Bucks County Historical Society Mercer Museum in Doylestown, Pennsylvania. The National Park Service and The Church of Jesus Christ of Latter Day Saints have purchased some of his reproduction Argand lamps for various restoration projects around the country. Joel has also supplied tinware for full-length movies and historical documentaries that have been filmed in Canada. He has taught tinsmithing at the Landis Valley Museum in Lancaster, Pennsylvania.
Joel Paradis
All Joel's tinware is crafted using the old tools, materials and techniques of early tinsmiths. Pictured here, he is using an antique deep-throat beading machine which has different shaped rolls to add decorative beading as well as structural strength to various pieces of tinware.
Creasing Swedge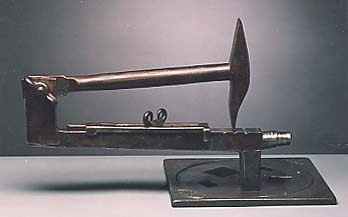 The creasing swedge was made in the early 1800's and is used for a number of forming operations such as fluting the edges of candle cups.
Raising Block, Hammer, and Planishing Stake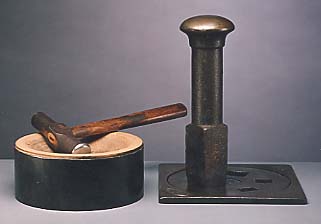 The raising block, hammer, and planishing stake are used to form tinplate into a domed shape as seen on the tops of tea and coffeepots. It is a time consuming process, as care must be taken to work out all hammer marks.
| | |
| --- | --- |
| Geometric Pattern for Match Safe | The Match Safe |
At the heart of every piece of tinware are the patterns from which its component pieces are cut. Developing a pattern and determining construction details are the first steps taken to reproduce or make a new piece of tinware. The drawing shows the geometric projection method of developing the pattern for the body of a match safe. Once the master pattern is drawn, its shape is transferred to and cut from a piece of tinplate. By placing this tin pattern on another piece of tinplate and scribing around its edges, the shape of the pattern is transferred so a duplicate piece can be cut out for the project at hand. Once the various component parts of a piece of tinware are cut and formed, they are soldered together.