Argand Table Lamp - circa 1817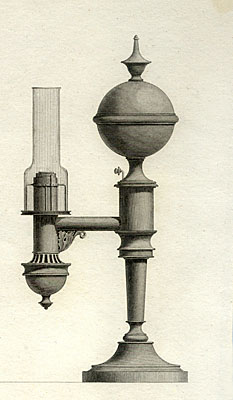 The plate of an early Argand table lamp that is pictured above has been copied from one of the numerous plates that illustrates the Cyclopedia or Universal Dictionary of Arts, Sciences and Literature by Abraham Rees and published by Longman, Hurst, Rees & Orme, Paternoster-Row as the Act Directs in 1820. There is no indication of the scale of the drawing on the plate, however the text that relates to the plate does list the scale and so it will be possible to quite accurately reproduce this lamp. This plate is a rather important find since it dates the spiral tube wick raising-mechanism to at least as early as 1818 and also because this lamp is a fine example of lamps that were available in the Federal period.
The design of this lamp was rather loosely followed when making the lamp pictured in the two photographs shown at the bottom of this page. This one-of-a-kind lamp is quite unique in that all of the parts that hold the oil (the font, the reservoir below the font, the oil feed tube, the burner tube, and the "tin" tube) are made of glass. The only non-glass parts in the burner tube assembly are the spiral tube and the wick holder. This construction affords a view of the path which the oil takes as it flows from the font to the wick, the operation of the principle that maintains a constant fuel level in the burner tube, and how the wick raising mechanism operates. Note that the edges of the holes and the slot in the "tin" tube have been darkened since the fuel rendered them virtually invisible and also that the plastic tube at the bottom of the burner tube is used to drain oil to simulate fuel consumption (while this is a functioning lamp, it will not be lit because the differences in the coefficients of thermal expansion of glass and brass would cause breakage of some of the glass). The lamp has been an extremely useful tool to use when demonstrating the operation of Argand type lamps.
Work on this lamp is underway. Tom Curran, a highly skilled gunsmith and carver, has done a masterful job in replicating the gusset that strengthens the joint of the burner and oil feed tubes. Chucks have been made for the font spinnings and the center ring has been machined. Chimneys have also been blown. As has been the case with all of our reproductions, a firm order can speed up production of this lamp - if you should be interested, please call for details and pricing.